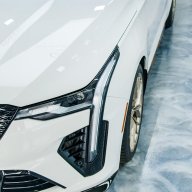 Joined

Oct 11, 2022
Messages

237
Location
V-Series Cadillac(s)?

2023 CT4-V Blackwing
I kind of doubt anyone but enthusiasts would understand what the BW means. Any of the custom plates using wing in the phrasing are also a giveaway to those in the know. Those with Goat in them are catering to even a smaller audience. To me, it's unique to the car and easy to remember instead of some random number-letter combination. I admit it's not cute or humorous.
Conversely, agnostic of plate or badge, those in the know even loosely, will probably do a double take at what looks like a CT4 or CT5 with a quad exhaust that sounds like a monster
I've had a few people compliment the car or try to race me at a red light just because I had the exhaust open and I blip the exhaust at stops (motorcycle habit). Coming from the SS community I really enjoy the "What the hell is that" discussion, regardless of whether or not people advertise the model.
Might throw people for a loop and stick an AST-V badge on the trunk for fun. Or even the base model "250T" badge