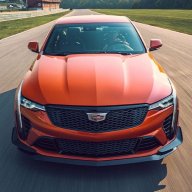 Administrator
Staff member
Joined

Nov 3, 2011
Messages

3,810
Location
V-Series Cadillac(s)?

Not Yet!
A very interesting article in Automotive News regarding the demise of the manual transmission. So what do you prefer? Do you still prefer a manual transmission or an automatic?
Why the stick shift's days may be numbered
by Richard Truett
Engineering and Technology Reporter
Automotive News
DETROIT
-- Two cars I have test driven recently finally convinced me the good old-fashioned manual transmission will soon be dead.
General Motors let auto writers test drive the 2015 Chevrolet Corvette with its new eight-speed automatic transmission. And among our rotating fleet of test cars here at work, a 2014 Jaguar F-Type has been a well-liked visitor. The F-Type also is equipped with an eight-speed automatic transmission, this one made by German supplier ZF.
The Corvette's transmission is an amazing piece of engineering. Operate the paddles on the steering wheel and the gears change at the speed of thought -- a computer monitors driver inputs 160 times a second. And shifts are nearly imperceptible. You get the driving sensation of a manual with the convenience of an automatic.
Ditto for the Jag.
I love manual transmissions. My three classic cars have them. I have converted cars from automatic to manual. But the manual's days as a mainstream transmission are ending.
The take rate for manual transmissions across the U.S. auto industry is hovering around 5 percent, and according to consulting firm IHS Automotive, the number of nameplates offering a manual option is about 10 percent, down from 35 percent in 1980.
Full Story:
http://www.autonews.com/article/2014...ay-be-numbered