Joined

Nov 4, 2011
Messages

814
Location
V-Series Cadillac(s)?

'11 V Wagon, ( '13 427 Vette & '21 Vette)
Got a chance to ride in a little 2-seater last Saturday and do a little sight seeing in Oklahoma. Hit a top speed of 40 MPH and was glad the owner had installed seat belts so we didn't bounce out of the little car.
Okay, it was a "motor car" and it runs on the railroad. A bunch of railroad buffs got together on St. Patty's day and drove motor cars on the Arkansas & Oklahoma RR between Midwest City and Shawnee Oklahoma.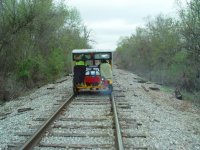 That's the one I rode in on the right. We followed the one in the middle and the left pix is part of the line up of motor cars and "hi-railers".
Not exactly cruising in the "V" but it was a lot of fun.