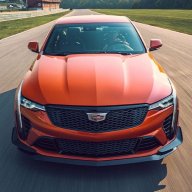 Administrator
Staff member
Joined

Nov 3, 2011
Messages

3,871
Location
V-Series Cadillac(s)?

Not Yet!
Car Report: The Cadillac Vsport has made great strides
Monday - 2/17/2014, 5:27am ET
By Mike Parris
WTOP
WASHINGTON -
GM and Cadillac have been on a roll lately; I recently drove the North American truck of the year, and next up is the award-winning Cadillac CTS. Not just any CTS, but the Vsport, with 420hp eight-speed automatic, an honest mid- size luxury car.
Cadillac sent the new CTS to weight management class and made a larger luxury car that's one of the lightest mid-size luxury sedans today.
Let me take you back to 2004, when the first Cadillac CTS-V was released: I wanted one. With 400 horsepower, what could be better? Then I went and drove it and was put off by the interior, which didn't live up to the $43,000 price tag. I had also driven the 2004 Pontiac GTO, which had a nicer interior and was nearly 10 grand cheaper.
I bought the Pontiac and still have it. The CTS Vsport, the 2014 Motor Trend car of the year, might just change my mind about the Cadillac.
Ten years has changed everything! The third generation of the CTS is a stunner inside and out. Cadillac has come to the party with the Germans, who have been the power players in the mid-size luxury car segment for years. The new larger CTS starts at around $45,000, which is very competitive, but costs more than the last CTS.
Full Story:
http://www.wtop.com/1397/3564482/Vsport-A-decade-makes-a-difference