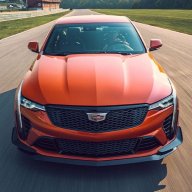 Administrator
Staff member
Joined

Nov 3, 2011
Messages

3,809
Location
V-Series Cadillac(s)?

Not Yet!
2014 Cadillac XTS Packs Twin Turbo Power
New V-6 engine option produces 410 horsepower
2013-06-24
GM Media
Starting in August, the all-new Cadillac Twin Turbo V6 will go into production as an optional engine for the 2014 XTS.
DETROIT
–
Cadillac
will add a new option to its
XTS
luxury sedan: More power and torque. Starting in August, the all-new Cadillac
Twin Turbo V6
will go into production as an optional engine for the 2014 XTS.
The new Cadillac Twin Turbo V6 is also a signature feature of the upcoming all-new 2014 CTS luxury performance sedan. In the XTS, the twin turbo will produce an SAE-certified 410 horsepower (306 kW) and 369 lb-ft of torque (500 Nm), making it one of the most power-dense six-cylinder engines among luxury cars. The engine delivers 105 lb-ft more torque over the standard V-6 from1900 to 5600 rpm, providing seemingly endless torque for vehicle responsiveness.
"The addition of the new Cadillac Twin Turbo expands and elevates the XTS luxury sedan," said Bob Ferguson, vice president Global Cadillac. "This is a compelling enhancement to what is already one of the most technically advanced sedans in our history."
In both the CTS and XTS product lines, the twin turbo will be the centerpiece of a new model offering called Vsport. The new Vsport is inspired by and slotted "underneath" Cadillac's elite high-performance V-Series models. Vsport includes the best-performing technical elements inside the "regular" car line in a single model, headlined by Twin Turbo engine.
The new Cadillac Twin Turbo is a comprehensive upgrade to the 3.6L dual overhead cam V6 that is standard in the XTS in the U.S. market. Almost every component is unique, including:
All-new cylinder block casting
Strengthened connecting rods
Machined, domed aluminum pistons with top steel ring carrier for greater strength
10.2:1 compression ratio
Patented, integrated charge air cooler system with low-volume air ducts
Two turbochargers producing more than 12 pounds of boost (80 kPa)
Vacuum-actuated wastegates with electronic control valves
All-new direct injection fuel system
Tuned air inlet and outlet resonators, aluminum cam covers and other features that contribute to quietness and smoothness.
The cylinder heads are also unique. They feature a high-tumble intake port design that enhances the motion of the air charge for a more-efficient burn when it is mixed with the direct-injected fuel and ignited in the combustion chamber.
Pricing for the 2014 XTS starts at $45,525, including destination fees, unchanged from 2013, with standard equipment including the 3.6L V6 engine that makes 306 hp,
CUE
, intelligent brake assist and Magnetic Ride Control. Three option packages are available: Luxury, Premium and Platinum Collections.
The XTS Vsport model will be offered only in the up-level Premium and Platinum Collections as all-wheel drive.
About Cadillac
Cadillac has been a leading luxury auto brand since 1902. Today Cadillac is growing globally, driven by an expanding product portfolio featuring dramatic design and technology. More information on Cadillac appears at
www.cadillac.com
. Cadillac's media website with information, images and video can be found at
media.cadillac.com
.
# # #
​