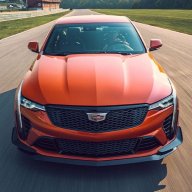 Administrator
Staff member
Joined

Nov 3, 2011
Messages

3,893
Location
V-Series Cadillac(s)?

Not Yet!
Would You Rather: Cadillac CTS-V Coupe, Sedan, or Wagon?
Written by: Christian Seabaugh
Motor Trend
January 16 2012 12:00 PM
Sure, the 2013 Cadillac ATS is the hot-new young thing on the scene, but we can't forget that the CTS-V Coupe, Sedan and Wagon are the cougars of the Cadillac lineup. They're a little older and maybe a little rough around the edges, but you would, wouldn't you?
Read more:
Would You Rather: Cadillac CTS-V Coupe, Sedan, or Wagon? - WOT on Motor Trend