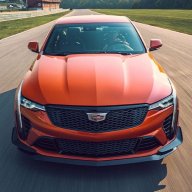 Administrator
Staff member
Joined

Nov 3, 2011
Messages

3,044
Location
V-Series Cadillac(s)?

Not Yet!
Just passing on an FYI from Cadillac:
V-Series Blackwing – Waitlist instructions & New Wheel announcement​
Dear Cadillac Dealers,
We are extremely happy to share two important updates with you today around V-Series Blackwing:
I. Waitlist Instructions:
While the reservation program for the initial 500 V-Series Blackwing is full, the 22MY is not-yet sold out and we encourage all dealers to reach out to their waitlist leads and submit orders to order work bench as soon as possible. It's important to remember that these are very interested customers who would have put down the $1,000 deposit had they been able and we encourage you to get their orders in the system before moving on to others.
Your waitlist leads would have been received between 2/1-2/10 under the following lead campaign IDs:
561226 – CT4-V Blackwing Hot Lead (aka Waitlist)
561227 – CT5-V Blackwing Hot Lead (aka Waitlist)
Please work with your field team for guidance on expected allocation to confirm you can fulfill all your interested customers.
II. New Wheel Announcement:
We have exciting news! A new Aluminum Alloy wheel with Tech Bronze finish will be available starting this Thursday 4/22. This striking wheel is an exclusive fashion design and color. As a nod to the heritage of the Blackwing name, these wheels also include laser etching of the historic Blackwing 'wings' logo.
These new wheels will be available to current customers with orders in the system as well as any new orders starting this Thursday 4/22 (in "Quick Order" only – visible in 'configure a new vehicle' on May 6th).
Please reach out to your current V-Series Blackwing customers with an order in the system to see if they're interested in this new wheel option and make any updates to existing orders by Friday, April 30, 2021.