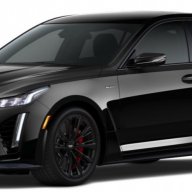 Joined

Mar 14, 2021
Messages

318
Location
V-Series Cadillac(s)?

2022 CT5-V Blackwing
Reading through many of the more recent threads and some of the earlier ones too I sense a growing frustration in the Blackwing process........so here's my take. What's yours?

First and foremost I am incredibly excited to get my car. PERIOD. Cadillac has made what is and will be one of the best ever vehicles in these classes. The real performance numbers won't arrive until the journalists get their hands on them in July - which is when I am expecting a flood of new ( positive ) information to arrive. We are in an elite group that have been fortunate enough to not reserve but order one of these cars, which someday will have incredible value ( my opinion anyway ) ( my dealer thinks I could sell mine at purchase time for 150K ) Either way, I will enjoy every single second sitting behind the wheel with my 668 horses pushing me forward. Let's not forget about the ability to row my own gears as I have chosen. The technology that these cars possess have never been experienced by myself so that will bring in a whole new dimension of "wow" when I get to drive. Creature comforts....say no more.

Has it been an easy process? Probably not just because the online brochure wasn't thorough enough nor are there real pictures of real cars in whatever color or option we want....but really how could there be? It's a brand new never produced car. I have added to my order multiple times but not because there wasn't sufficient information but more because I needed to decide what made the most sense for my personal build choice. As of today, I absolutely love my build. Believe it to be awesome, for me! And as I write this I am still able to amend if I wanted although I'm not interested.

Oh yeah, let's not forget about all the head turning when we drive by.........when the real enjoyment kicks in and we forget about all this frustration.