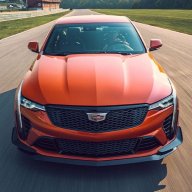 Administrator
Staff member
Joined

Nov 3, 2011
Messages

3,385
Location
V-Series Cadillac(s)?

Not Yet!
I really don't see the ADMs sticking around for the Blackwings. It's not an M badge or an AMG badge, so non-car people are out of the dick swinging badge contest. This car is not all that hyped, even to car people.
It's not that hyped, because they haven't hit the streets yet, and I have yet to see any CTFs tested by any of the automotive toilet paper rags. Now that BMW has slapped a Miss Piggy honker on their M-line (and I've heard something even more appalling is coming down BMW's colon), I have a feeling the M-badge is about to get hit in the family jewels.