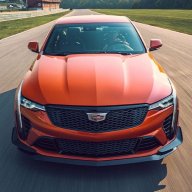 Administrator
Staff member
Joined

Nov 3, 2011
Messages

3,893
Location
V-Series Cadillac(s)?

Not Yet!
Cadillac CTS-V Wagon: Hope for fathers everywhere
Todd Deeken, Salt Lake City Sports Car Review Examiner
November 22, 2011
Once life requires a child's car-seat or two, most driving enthusiasts reluctantly sell their fun cars and go in search of something with great back seats and a good amount of cargo room for strollers and such. At any car show you can find "former" car enthusiasts who drool on the windows of a new sports car and then trudge to their mini-van in the parking garage. Cars which offer all the driving fun of great machines and all the space for parenthood are about as common as a five-leaf clover. Thankfully, the Cadillac CTS-V Wagon is one of these rare cars.
Continue reading on Examiner.com Cadillac CTS-V Wagon: Hope for fathers everywhere - Salt Lake City Sports Car Review | Examiner.com
Cadillac CTS-V Wagon: Hope for fathers everywhere - Salt Lake City Sports Car Review | Examiner.com