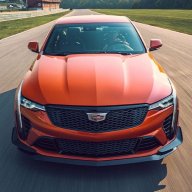 Administrator
Staff member
Joined

Nov 3, 2011
Messages

3,810
Location
V-Series Cadillac(s)?

Not Yet!
Cadillac Could Be Planning a Corvette Z06 Based Halo Car
By Patrick Rall
TorqueNews.com
The Cadillac brand is making moves to continue to better challenge the other luxury automakers doing business in the United States and a new rumor suggests that General Motors could be planning a new halo car for Cadillac – one which could be based on the current Chevrolet Corvette.
It could be argued that the Cadillac lineup is the best that it has ever been. The ATS, CTS, XTS, SRX and Escalade are all among the best options in their respective segments while the ELR is literally the only true extended range electric vehicle sold in America. The upcoming CT6 will give the Cadillac brand a proper rear wheel drive super luxury sedan to rival the best from BMW and Mercedes, but something is missing. Cadillac doesn't have a proper sports car, but rumors suggest that they could be working on a fix for that problem and that fix could include a car that is at least loosely based on the C7 Chevrolet Corvette – or even the new Z06.
Modern Cadillac Versus The World
Mercedes has the SLS, the new GT and the rest of the AMG lineup. BMW has the M lineup and the new i8. Lexus has (or had) the LFA along with more reasonably priced models like the IS-F and the new RC-F. Infiniti doesn't have a proper sports car, but they do have the Q60 models. Audi has the R8 and the far more affordable TT. These are all brands that the modern Cadillac brand is competing with and, as displayed above, every one of them has a proper 2-door sports car. Cadillac does not.
While the new VSport models go a long way in satisfying those folks who want bigger performance from their new Cadillac, those models don't properly compete with many of the cars in that list above. Even the introduction of the future CTS-V and ATS-V will leave a hole in the brand's lineup and that hole may leave folks who own a daily driven Cadillac looking elsewhere for a luxury sports car. The ATS-V Coupe could help, but that is still no Mercedes AMG GT or Lexus LFA. However, General Motors has a car in their arsenal that will keep up (if not beat) any of the cars on that list with the new Chevrolet Corvette Stingray and the Corvette Z06.
Full Story:
Cadillac Could Be Planning a Corvette Z06 Based Halo Car - Torque News