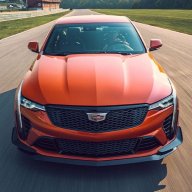 Administrator
Staff member
Joined

Nov 3, 2011
Messages

3,867
Location
V-Series Cadillac(s)?

Not Yet!
2012 Cadillac CTS-V redefines Sport Wagon for the 21st Century
Upon seeing the 2012 Cadillac CTS-V Wagon at the Denver Auto Show Wednesday, it was, in simple terms, love at first sight.
By Don Bain on Fri, 03/23/2012 - 19:24
Torque News
Though my heart and soul truly belong to convertibles, there was just something in this dark beauty's diamond black paint and its luminous sheen – so glossy it casts a reflection.
This heartthrob is no pushover however, packing a 6.2-liter Eaton supercharged V8 engine with 556 horses milling about beneath her bonnet.
Like most drop dead gorgeous hotties, the 2012 Cadillac CTS-V is expensive to run with, taking a gallon of go-juice for every 12 miles in town or 18 on the freeway.
Nevertheless you'll get a lot of satisfaction in return for your hard-earned greenbacks, for this companion never fails to get you where you're going in style.
Full Review:
2012 Cadillac CTS-V redefines Sport Wagon for the 21st Century