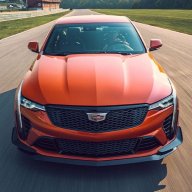 Administrator
Staff member
Joined

Nov 3, 2011
Messages

3,891
Location
V-Series Cadillac(s)?

Not Yet!
Redesigned CTS, new flagship are on tap for Cadillac
Mike Colias
Automotive News -- July 23, 2012 - 12:01 am ET
General Motors has green-lighted the development of a large flagship sedan for Cadillac, sources say, part of its plan to position its luxury brand's lineup to take on the German luxury stalwarts in every key sedan segment.
The flagship sedan is to be built on a new rear-wheel-drive platform and arrive by 2015. The long-rumored rwd flagship would challenge the BMW 7 series and Mercedes-Benz S class and is a key to GM's ambitions to expand Cadillac in China.
Until recently, Cadillac's car lineup had been winnowed to just the CTS sedan. It's being replenished fast with the addition in June of the XTS large sedan and next month's launch of the ATS compact sedan.
Next year, a redesigned, bigger CTS sedan is expected to arrive. That car will match up better with the Mercedes E class and BMW 5 series.
Here are highlights of Cadillac's plans for the 2013-15 model years.
Full Article:
http://www.autonews.com/article/20120723/OEM04/307239993#ixzz21XqRvC5R