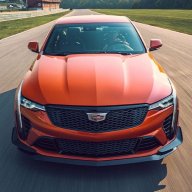 Administrator
Staff member
Joined

Nov 3, 2011
Messages

3,766
Location
V-Series Cadillac(s)?

Not Yet!
Mark Phelan: Cadillac gets power right this time in luxury-minded XTS Vsport
By Mark Phelan
Detroit Free Press Auto Critic
What's your guilty pleasure? "American Idol"? Red Bull and Stoli? Big Macs? Blue cheese-stuffed olives in a dirty martini?
I'll go first. My name's Mark, and I like George Michael's music. It wasn't easy to say that. I've been to more Springsteen concerts than I can count. I'm a charter member of the Steve Earle School of rough-edged country rock. I just saw Pearl Jam, Nine Inch Nails, Kid Rock and Dr. John at the Voodoo music festival in New Orleans. I should be immune to faux-soul Brit-pop, but I'm a sucker for Michael's music. My head even bobs when I hear "Wake Me Up Before You Go-Go."
Nothing's going to reduce the shame of that, but the three-star 2014 Cadillac XTS Vsport erased the embarrassment I felt for liking Cadillac's big luxury sedan when the XTS debuted last year. That's what adding a 410-horsepower twin-turbo V6 can do for a car.
Full Story: