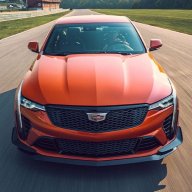 Administrator
Staff member
Joined

Nov 3, 2011
Messages

3,866
Location
V-Series Cadillac(s)?

Not Yet!
Tested: 2014 Cadillac XTS Vsport Twin-Turbo V-6
Grandpa's got an urge.
August 2013
BY ERIC TINGWALL
Car and Driver Magazine
The Cadillac XTS stands apart from the ATS and CTS sports sedans that are redefining America's luxury automaker. The big soft Caddy is designed for the brand's old-school customers and those who might set a priority of roominess and ride quality over rortiness. Cadillac XTS buyers need 410 horsepower like they need a motion-sensing touch screen and capacitive-touch climate controls. But where Cadillac's CUE infotainment system was maddening, we're down with the addition of a potent turbocharged V-6 between the front wheels. And come to think of it, 1950s and '60s Caddys had way more power than control, so there's a bit of legacy here.
This 2014 Cadillac XTS is our first exposure to the Vsport series that slots between Cadillac's mainstream lineup and the tire-slaying V performance models. Vsport here means the force-fed V-6, the twin turbochargers of which are bolted to a 3.6-liter engine that is a dimensional clone of the naturally aspirated V-6 widely used by GM vehicles (including the standard XTS). However, Cadillac claims the Vsport engine uses a new block, internals, and direct-injection system to contend with the 12 psi of intercooled boost.
Sneaky Fast
The new engine generates smooth, effortless power befitting a large Cadillac. It doesn't pack the soul-stirring rumble of an eight-cylinder, but the V-6 surpasses the old DTS's Northstar V-8 in nearly every other regard. With 369 lb-ft of torque from 1900 rpm, the turbocharged XTS makes overtaking other cars a breeze and possesses the sometimes-scary ability to hit triple-digit speeds unintentionally. The six-speed automatic uses the same gear ratios as in the naturally aspirated XTS but with a shorter final-drive ratio. Shifts are quick and logically sound, although the manual shift mode is slow to respond. Most of all, we wish the transmission and the engine could collaborate to speed up throttle response off the line.
Full Story:
2014 Cadillac XTS Vsport Test – Review – Car and Driver