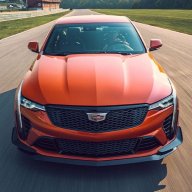 Administrator
Staff member
Joined

Nov 3, 2011
Messages

3,432
Location
V-Series Cadillac(s)?

Not Yet!
2014 Cadillac CTS Vsport - Sport Over Luxury
By: Todd Lassa
April 27, 2015
Automobile Magazine
Daily news editor Joseph Capparella shook off Marc Noordeloos' criticisms of our Four Seasons 2014 Cadillac CTS Vsport's ride quality during a trip to Nashville.
"I wasn't expecting anything special from the CTS for the long-haul," Capparella says. He makes this 500-mile journey several times a year. "But one thrilling moment near Bowling Green, Kentucky, stood out to me.
"I had just refueled and had about an hour's drive left. It was 8 p.m., and highway exit 38 was pretty much deserted, with an open shot from the gas station to the on-ramp. I exited the station and squeezed on the gas as the responsive eight-speed automatic snapped off quick shifts from second to third, and then I made a quick left-right transition from the short stretch of road onto the gently curving on-ramp. Composure and balance inspired confidence, and I could feel the V-6's turbochargers spooling up as I kept accelerating along the ramp, the magnetorheological dampers keeping the car planted and stable. This is a seriously capable performance car, and Cadillac really nailed the driving dynamics."
Moments like this make us keep buying sports sedans as daily drivers. But most of us are too busy for track time that would let us wring out such a car to its full capabilities, so we have to rely on freeway on- and off-ramps.
Full Story:
http://www.automobilemag.com/review...s/1504-2014-cadillac-cts-vsport-april-update/