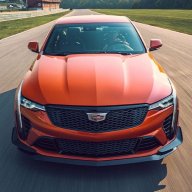 Administrator
Staff member
Joined

Nov 3, 2011
Messages

3,866
Location
V-Series Cadillac(s)?

Not Yet!
First Test: 2014 Cadillac XTS Vsport AWD
Being a Good Vsport
By Zach Gale | Photos By Michael Shaffer | December 24, 2013
Before you even start the car, the 2014 Cadillac XTS Vsport entertains you. Unlock the XTS at night and you'll be greeted by Cadillac's cool LED-filled door handles and gradually brightening LED light pipes with HID headlights that do a three-quarter turn. Inside, the XTS' has impressive LED accents, while the center stack and instrument-cluster screens put on a coordinated show in the form of a brief welcome animation.
When you finally do get moving, the XTS Vsport is ready to go with a new 410-hp, twin-turbo 3.6-liter V-6. So what effect does the Vsport engine have on the big XTS' performance?
You can't get a 410-hp 2014 XTS for less than $60,000, but consumers disappointed by the regular all-wheel-drive XTS' average-feeling 6.9-second 0-60 mph time should check out the Vsport model. The base XTS Vsport Premium with all-wheel drive costs about $6000 more than the XTS V-6 Premium with all-wheel drive, but you'll immediately notice the difference in power and hear a refined engine note appropriate for a luxury sedan in this price range. There's not much turbo lag, and in the 5.3 seconds it takes the regular all-wheel-drive XTS to reach 50 mph, the XTS Vsport is at 60 mph. Passing power from 45-65 mph improves from 3.3 to 2.6 seconds.
Full Story:
http://www.motortrend.com/roadtests/sedans/1312_2014_cadillac_xts_vsport_first_test/#ixzz2oUxvwFGp