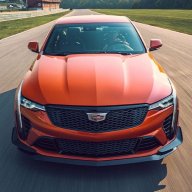 Administrator
Staff member
Joined

Nov 3, 2011
Messages

3,871
Location
V-Series Cadillac(s)?

Not Yet!
Factory Muscle Still Turns Heads
Cars.com News (blog)
Among a gathering of collector, muscle and custom cars totaling in the thousands, I thought the factory-fresh 2012 Cadillac CTS-V sedan I was driving would go unnoticed. The unmodified sports sedan — Cadillac's answer to Germany's BMW M and Mercedes-Benz AMG performance cars — surely wouldn't get a second glance sitting next to dream-worthy hot rods, flawless restorations, evil rat rods and more recent models with ludicrous amounts of power added on.
My assumption was blown out of the water.
Full Story:
Factory Muscle Still Turns Heads - KickingTires