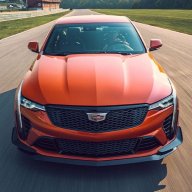 Administrator
Staff member
Joined

Nov 3, 2011
Messages

3,867
Location
V-Series Cadillac(s)?

Not Yet!
Today's Drive: 2014 Cadillac CTS V-Sport
This new car is moving up to compete with the 5-series and the Mercedes-Benz E-class
Brendan McAleer / Contributing writer
Vancouver Courier
May 16, 2014 10:41 AM
"Some folks built like this. Some folks built like that. But the way I'm built, don't you ever call me fat. 'Cause I'm built for comfort, I ain't built for speed. But I got everything, all a good girl might need."
And that's the old Cadillac, Willie Dixon slingin' the twelve-bar blues, black paint, chrome and a cushy suspension floatin' you on down the road to N'Awlins and the big muddy. A car? More like a paddleboat steamer with a big ol' grille, I reckon.
It's heady stuff but an image that faded away in the new dawn of a world-favouring agility and fuel-economy. No more land-yachts — luxury might still be big, but performance credentials are needed for true bragging rights. Mercedes-Benz had AMG. BMW had M. Cadillac had the Cimarron. Uh-oh.
Happily, as part of General Motors, Cadillac also had access to the brains behind some of the fastest machinery ever to come out of Detroit. They gave Cadillac the V-series, a badge which this latest new CTS mid-sized sedan wears proudly.
As I flick the shifter into manual mode and drop down a gear, Willie Dixon's voice fades out on the satellite radio and the track changes.
It's Jackie Brenston and a young Ike Turner hammering out "Rocket 88" at an uptempo speed.
That song, homage to an Oldsmobile V8 that once scorched up the highways, was based on a song called "Cadillac Boogie." You heard the man, big Caddy.
Let's boogie.
Full Story:
Today's Drive: 2014 Cadillac CTS V-Sport - Driving - Vancouver Courier