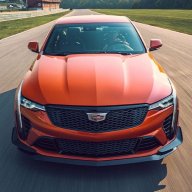 Administrator
Staff member
Joined

Nov 3, 2011
Messages

3,893
Location
V-Series Cadillac(s)?

Not Yet!
Awesome review!
Cadillac CTS-V Coupe: American muscle
The CTS-V is perhaps the most refined sports coupe in this history of North American car building.
By Jim Meachen & Ted Biederman
MyCarData - The Epoch Times
If forced to sum up the 2012 Cadillac CTS-V Coupe in four words, that's the four we would use. More specifically the CTS-V carries an appealing concept-car design that has miraculously made it into the ranks of production cars, and it houses supercharged muscle measured at 556 hp.
Beyond its stunning exterior and its pin-you-back-in-your seat performance, the CTS-V comes with amazing refinement, interior quality, and style usually reserved for European sports coupes, and a comfortable ride that we figure will suit just about anyone—and anyone who thrives on adrenalin rushes as a perk.
Full Story:
Cadillac CTS-V Coupe: American muscle | Autos | Life | Epoch Times