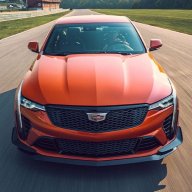 Administrator
Staff member
Joined

Nov 3, 2011
Messages

3,891
Location
V-Series Cadillac(s)?

Not Yet!
CTS broke the Caddy mould

The mid-sized sports sedan changed the look of Cadillacs
By Bob McHugh, The Province November 2, 2012 3:04 AM
The modern transformation of Cadillac started with the introduction of CTS back in 2003.
It replaced the image of an Eldorado with big cow horns on the end of a hood the length of a football field with a mid-sized sports sedan with edgy styling that sends power to its rear wheels.
A complete redesign for the 2008 model year took CTS to another level of styling refinement (inspired by the Sixteen concept car) and added a technically sophisticated 24-valve 3.6-litre direct injection V6 engine, which not only provided more power (304 horsepower), but also offered better fuel economy. Yes, a Cadillac with decent fuel economy, but make sure that it has the DI engine as the base version came with the older 3.6-litre V6 engine without DI.
Full Story:
CTS broke the Caddy mould