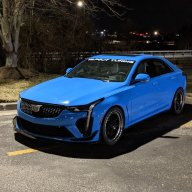 Seasoned Member
Supporting Vendor
Joined

Jul 24, 2021
Messages

492
Location
V-Series Cadillac(s)?

2016 ATS-V A8, 2018 ATS-V M6, 2022 CT4-V Blackwing A10
@WONT TAP

any chance that you would make the CT4 front spoiler in gloss black? I have a non-CF BW and am planning on keeping the factory gloss black spoiler and would be interested in a matching front spoiler

awesome work btw!
Thank you very much!
Our forthcoming CT4-V Blackwing front splitter is constructed from plastic, with a carbon fiber coating, and retails for 30% less than the replacement part from Cadillac. Everyone wants something a little different, but we can only afford to bring so many parts to this small market. This is why we're hopeful this approach satisifies the highest number of people.