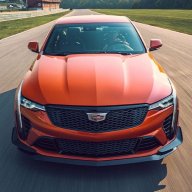 Administrator
Staff member
Joined

Nov 3, 2011
Messages

3,866
Location
V-Series Cadillac(s)?

Not Yet!
Doug's Review: 2004 Cadillac CTS-V
By Doug DeMuro on April 9, 2013
The Truth About Cars
When I was a child, I had some neighbors with a Cadillac. They were either very old or very confused, but probably both since they put their license plate renewal decals on the trunk.
This was the early 1990s, when nobody had a Cadillac. Seriously: the lineup consisted of the Seville, the DeVille, the Eldorado and the Fleetwood Brougham, which was larger than most New York City apartments. None of those sound appealing even by TTAC standards, which seem to consist of: once a car is cancelled, it automatically becomes good, especially if it was designed at a time when fuel was cheaper than postage.
In the late 1990s, Cadillac finally started to become acceptable again thanks to the Catera. Hah! Just kidding. Of course, I mean the Escalade; the Catera simply confused Cadillac buyers by being small enough to fit in a modern garage.
While the Escalade's runaway success brought Cadillac back from the brink of Lincoln-style obscurity, its popularity seemed to surprise the brand. Four model years went by before they followed it up with something totally new. This may have been because GM's strategy at the time was: "If it will be successful, do something else." Which, incidentally, was borrowed from Acura and explains every generation of the RL.
When Cadillac finally brought a new product to the table, it came in the form of the 2003 CTS: a rear-wheel drive sedan designed by someone who must've been told that using curves would result in his next company car being a Cavalier. I can only assume he also designed the GMC Terrain, this time under threat of Chevy Spark.
I briefly owned the high-performance CTS-V, which debuted in 2004. This is my review.
Full Review:
Doug's Review: 2004 Cadillac CTS-V | The Truth About Cars