Just wanted to jot down a few thoughts about the Spring Mountain V Academy and my experience there. Long thread with pictures so the BLUF is had a blast, it was fun.
I took the class on 11/12 Jan. Getting up there was quite easy from Vegas, about an hour. Unfortunately I did not get in until midnight the day before the class due to aircraft mechanical issues. Check in with security after hours was really easy and less than five minutes. The condo was nice. More like a studio apartment. One great room with a king size bed, sofa, small dining table and a kitchen. There were four small bottles of water in the fridge and plenty of coffee. DirecTV and a wall / window ac/heater. Bathroom was stocked with essentials. Overall very comfortable for two nights.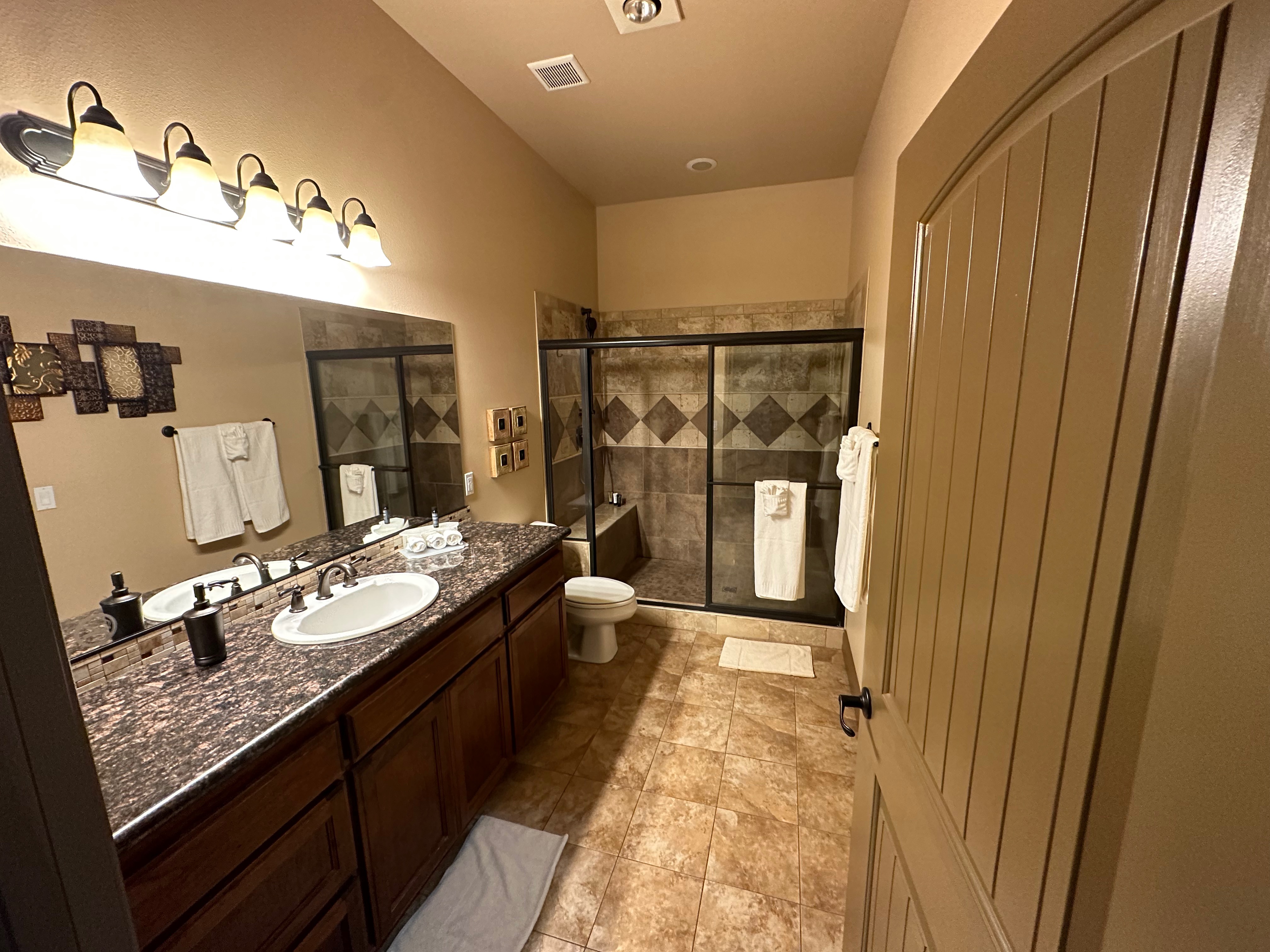 Day 1 / 2 heading to the clubhouse for breakfast. There were three total classes going on at the same time. The blackwing class and two corvette classes. The food was served buffet style with typical quality. Wasn't terrible but did not knock my socks off. There were approximately 18 round table with six seats or so at each table. I found a place and joined a crowd. In this case a couple of corvette people and one blackwing student;
@LastGas
Lunch was similar to breakfast, buffet style. Food was good.
After day 1 there was a no host social at the club. Someone shared a slice of pizza with me. It was tasty. Drinks were reasonably priced.
Class Days 1/2:
After breakfast headed over to the White classroom on the east of the complex. The complex has 9.1 miles of track that can be reconfigured into more than 50 different tracks. We were on the East loop for the two days. Class room was comfortable, good seating, cup holders and not too crowded with 16 students in the class. Two did not make it due to flight cancellations I believe. I'm combining day 1 and 2 below for ease since I did not copy the agenda.
Instruction was similar to other driving schools. They broke us up into three groups to start. Red, Green and Blue. The code for the week was Red was the slowest group, green in the middle and Blue faster or as they said more aggressive. Groups were adjusted as required after the first session and after the second session on the 1st day. For our class the groups did not change on day 2. Each group would either be on the track (lead / follow), up on the paddock or in the classroom. Course layout is on the right of the image below.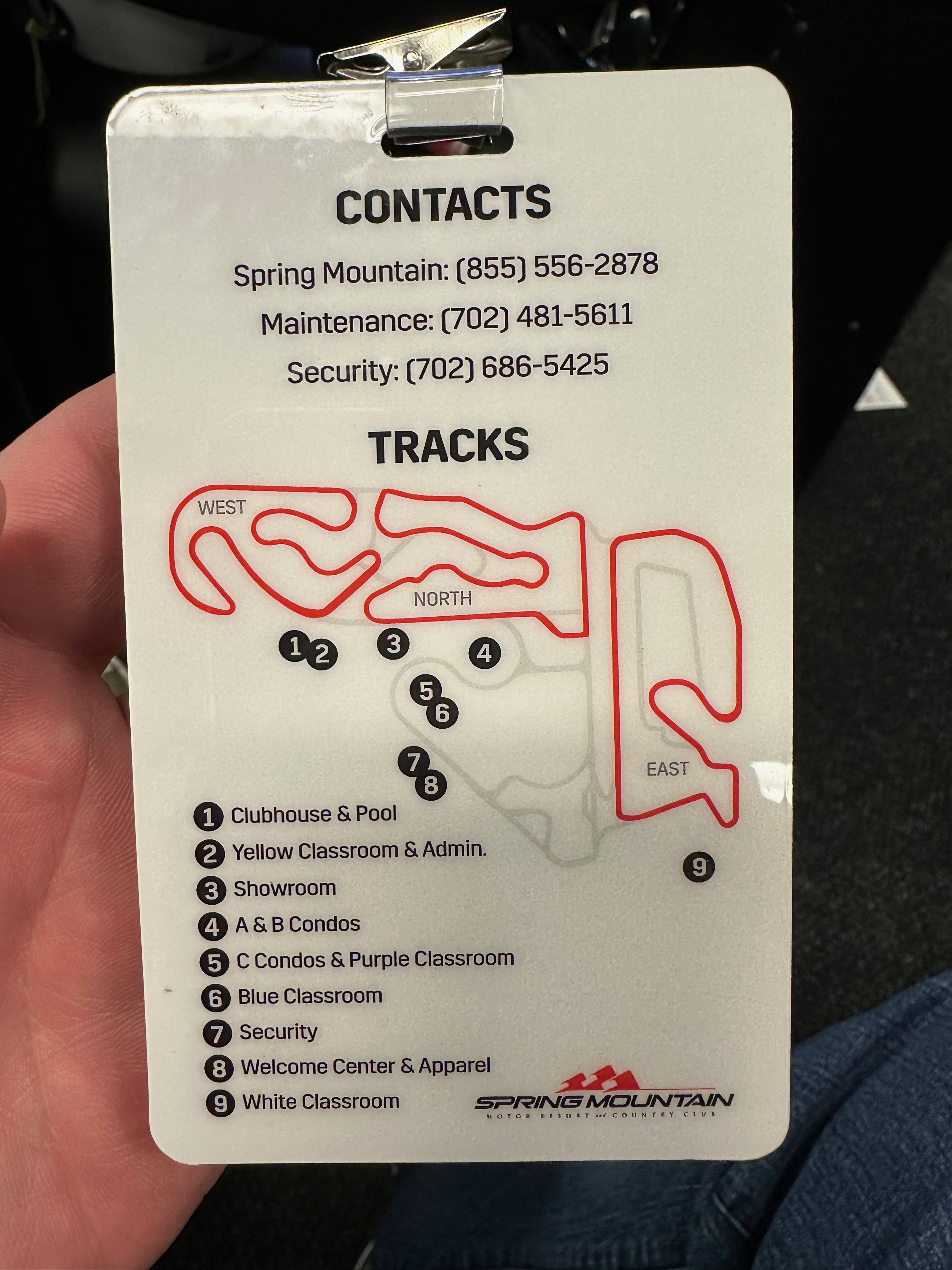 The off track car work consisted of ABS breaking exercises, figure 8 drifts, launch control, look ahead turns and autocross.
ABS: typical to other classes. Accelerate to cones, hard break, and go to one lane or the other. The difference between this class and say the Porsche class is that here they emphasized using ABS and Porsche pushed threshold breaking.
Figure 8: They wet the asphalt and you would do a figure 8 between two cones and break the car loose and try to regain control. At the end of the exercise the car was put into snow/ice mode to show how difficult if not impossible to break the back end out.
Launch Control: just like you would expect. We did three launches between cones. I hit 3.9, 4.1 and 4.0 for zero to 60.
Look ahead turns: Series of cones to weave through that you are forced to look ahead to the next one outside the passenger or drivers side window to be successful. At one point in the exercise they put a window shade up so you can't see out the front. They encourage you to move faster as you become more comfortable.
Autocross: simple autocross course. Ran for time on the second time through the course.
Class time: A bit fuzzy remembering these as most were not as value added to me compared with driving. There was a PDR class (I don't have PDR), 8 step curve class, garage talk (modes and maintenance), photographer sales, PDR video review of track session and I'm sure I'm missing one.
The most valuable class time to me was the unscripted back and forth with the instructors and students on track management. Additionally, JJ, lead instructor day one took a drone up and videoed a series of corners for each group. That really cemented in my head of where i was dorking it up and needed to make some changes. Next most valuable was the PDR review with instructors. After seeing it from above, then from the PDR it was quite helpful.
Instructors: I found them very good and personable. I really liked JJ and Tammy. Tammy was great on course. Vinny was probably my runner up to Tammy on course.
Overall a good two day program. For me I would have liked to eliminate launch control, ABS breaking and a couple of classroom sessions for more track time. Track time was five 20 ish minute sessions over two days. Additionally, more drone footage from above and the ability to take it home as well. I did opt for the photos. Quality is quite good for the photos and well I figured the class was free so why not spend $175 on photos.
View attachment January 12, 2022, Cadillac, East Loop.jpeg