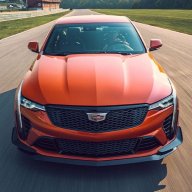 Administrator
Staff member
Joined

Nov 3, 2011
Messages

3,810
Location
V-Series Cadillac(s)?

Not Yet!
Road test: 2014 Cadillac XTS Vsport AWD Platinum
By Brian Harper
Driving.ca

Overview:
Power-rich full-sized luxury sedan
Pros:
Surprisingly sporty for a big car
Cons:
Awkward paddle shifters, thirsty
Value:
for money Good
What would I change?:
Simplify centre stack controls
It just sort of snuck up on me, like grey hair, middle-age and the need for afternoon naps — a heightened appreciation for luxury cars. Oh, I'll still jump at any chance to get behind the wheel of a sports car, but given that the opportunities to properly exercise such a beast are few and far between, the hedonistic comfort provided by a well turned-out luxury machine is a more than acceptable alternative, especially on cold winter days. Then, neck-snapping acceleration and high-g cornering take a back seat to how quickly the seats and steering wheel heat up. (Yes, I know one doesn't have to shell out big bucks for a luxo-yacht to get a little warmth to the extremities, but one cannot truly appreciate the other pleasures until one has thawed out.)
As it is, a good number of newer-generation high-end cars provide not just the expected creature comforts and high-tech trickery, but a considerable amount of snap as well. Take Cadillac's XTS Vsport, for instance. General Motors describes the full-sized sedan — which debuted for the 2013 model year as a replacement for both the DTS and STS — as "one of the most technologically advanced production cars in the brand's history." While usually dismissive of standard corporate hyperbole, I find this one to be pretty much accurate. The Caddy is a powerful performer with an engine that's a delight, and at a price point that makes one wonder why there's a need to go offshore.
* Full Article Linked Above *