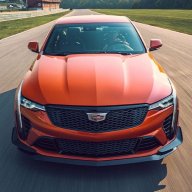 Administrator
Staff member
Joined

Nov 3, 2011
Messages

3,871
Location
V-Series Cadillac(s)?

Not Yet!
2014 Cadillac CTS Vsport Long-Term Update 2
Getting to My Happy Place
By Mike Floyd | Photos By Motor Trend Staff | June 11, 2014
Every morning on my way to work there's a happy place where I can let it all hang out in the Cadillac CTS Vsport. You might have a favorite expanse of asphalt, hairpin onramp, or twisty section on your daily route where you can really open your car up and let it fly. Mine starts with a wide sweeper on entry. Then it's hard on the Vsport's go-pedal, V-6 wailing as I explode down the long, dogleg left ramp that pours me onto the freeway at speed.
Barreling out of the short chute, it's duck, dodge, brake, accelerate, and shoot the gap. Some days I can just power past everyone; on others I have to wait a beat or two until a sliver of daylight emerges and I can pour more gas on the Cadillac's twin-turbo fire. Then I settle into the left lane, throttle back, and let the traffic wash over me. Such is the life in L.A. with the Vsport. Short bursts of unbridled joy followed by long stretches of stop-and-go pain.
One thing that wasn't painful at all was my trip to Symes Cadillac in Pasadena for the Vsport's first service, at 7000 miles. I was in and out in less than an hour, and the total was $0.00 thanks to Cadillac's free initial maintenance program.
Full Story:
2014 Cadillac CTS Vsport Long-Term Update 2 - Motor Trend