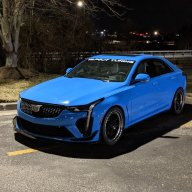 Joined

Jul 24, 2021
Messages

363
Location
V-Series Cadillac(s)?

2016 ATS-V A8, 2018 ATS-V M6, 2022 CT4-V Blackwing A10
Today we tested the JB4 tuner beta unit on a 2022 CT4-V Blackwing M6, carefully and methodically experimenting with all the various calibration maps and custom fuel bias settings. In summary, this product works, and it works very well!
Four baseline dyno runs varied from 399 to 407 whp. Final numbers were 490 whp, for an impressive 83 whp boost in power. These are huge gains for a car with zero mods! However, due to the increased boost, we expect this car will start misfiring under load within a few hundred miles. At that point, we will recommend colder spark plugs, with smaller gaps, installed using plenty of dielectric grease in the coil boot ends.
Boost curve and powerband were very smooth and broad. Fueling was identical to stock. There was zero electronic throttle closing and no codes set in several hours of dyno testing.
We are working with JB4 to further refine and improve this product. At that point, we intend to revise our CT4-V Blackwing White and Blue Belt Performance Packages to incorporate the JB4 instead of the DCM. This will bring the prices down substantially, making it much more affordable for everyone to beef up their CT4-V Blackwing powerbands.
Special thanks to Terry Burger for working with us to test, validate and fine tune his product, and Chuck Gutscher for volunteering his beautiful car.
Last edited: