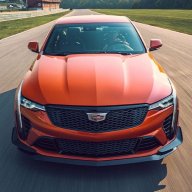 Administrator
Staff member
Joined

Nov 3, 2011
Messages

3,893
Location
V-Series Cadillac(s)?

Not Yet!
GM unveils welding technology to reduce vehicle weight, improve fuel economy
By Shaun Byron | MLive.com
on October 02, 201
2
FLINT TOWNSHIP, MI
-- Fuel economy is becoming an industry standard for automakers as the price at the pump trends upward and the federal government continues pressure for a greater reduction in emissions.
General Motors Co. has now unveiled a new welding technology that will increase the amount of aluminum used in its vehicles to reduce weight and improve fuel efficiency.
Invented by David Sigler, a technical fellow with GM, the process is called resistance spot welding and was unveiled Tuesday morning at the Flint Metal Center in Flint Township.
It uses a patented multi-ring electrode, replacing smooth electrodes used to spot weld steel.
The technology is now being used for the hood of the Cadillac CTS-V and the lift gate for the hybrid version of the Chevrolet Tahoe and GMC Yukon. It will be used more extensively starting next year.
Full Story:
GM unveils welding technology to reduce vehicle weight, improve fuel economy | MLive.com