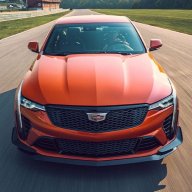 Administrator
Staff member
Joined

Nov 3, 2011
Messages

3,025
Location
V-Series Cadillac(s)?

Not Yet!
R-1234yf Refrigerant Rollout Coming in 2017 Model Year
GM TechLink
March 25, 2016
A number of 2017 Chevrolet, Buick, GMC and Cadillac models will join the current Cadillac XTS and Chevrolet Spark EV in using the new air conditioning refrigerant R-1234yf. R-1234yf is an environmentally friendly alternative to R-134a refrigerant, (Fig. 1) which is a greenhouse gas that has been cited as contributing to climate change. R-1234yf has a 99.7% lower Global Warming Potential (GWP) than R-134a. It is the industry accepted solution for a low GWP refrigerant.
The following 2017 models are currently targeted to receive R-1234yf in the North American market: Chevrolet Camaro, Cruze, Malibu, Colorado, Silverado, Tahoe and Suburban; GMC Acadia, Canyon, Sierra and Yukon models; Cadillac ATS, CTS and XT5; and Buick Cascada and LaCrosse. There will be more vehicles added for the 2018MY.
The US Environmental Protection Agency's (EPA) motor vehicle greenhouse gas regulations require improvements in overall fuel economy and the use of R-1234yf will play a considerable role in helping GM vehicles achieve these targets under the new regulations. The new refrigerant has been tested and studied extensively by many organizations, including SAE International, the US EPA, regulatory and scientific organizations globally as well as every major automotive manufacturer. All of these groups agree that R-1234yf is a safe and environmentally friendly alternative to R-134a.
Differences in Refrigerants
While R-1234yf is very similar to R-134a, there are some important differences. R-1234yf is considered a mildly flammable gas and should not be serviced near any open flame or significant source of energy (e.g., welding). Like all automotive refrigerants, it is illegal to release R-1234yf into the atmosphere. In the case of an unintentional release, the immediate area should be ventilated; taking additional care to ventilate pits or low areas as the refrigerant is heavier than air and can collect in these areas.
R-1234yf has thermodynamic properties similar to R-134a, so system diagnosis is similar to R-134a systems. Refer to the appropriate Service Information for the latest diagnostic and repair procedures.
Special Tools
Existing R-134a equipment cannot service R-1234yf due to fitting differences, refrigerant mixing and safety requirements. The following tools needed to properly service R-1234yf systems will be shipped to U.S. dealerships in March and April. Cadillac and a limited number of Chevrolet dealerships already have these tools.
PAG Oils
There are multiple refrigerant PAG oils released by GM Engineering to service GM vehicles built with R-1234yf. Be sure that the correct PAG oil as specified in the Service Information is the only PAG oil used during repairs. R-1234yf PAG oils cannot be mixed with or substituted for one another.
TIP:
GM's universal compressor oil released for R-134a applications cannot be used in R-1234yf applications and there are no aftermarket offerings approved for GM service use.
The same car line can use different PAG oils depending on the vehicle powertrain so always refer to the appropriate Service Information for the correct PAG oil part number to be used.
- Thanks to Chris Semanisin