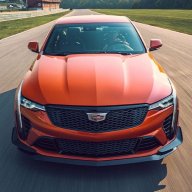 Administrator
Staff member
Joined

Nov 3, 2011
Messages

3,893
Location
V-Series Cadillac(s)?

Not Yet!
GM sales up 3.7 percent in 2012
Written by
Lindsay VanHulle
Lansing State Journal
A new Cadillac is driven at GM's Lansing Grand River plant in Lansing Friday Sept. 30, 2011. The public had
a chance to tour the local GM facilities during a community open house. / Rod Sanford | Lansing State Journal

DETROIT
— General Motors Co. continued to grow its U.S. auto sales in 2012, a trend company executives hailed while promising significant changes to its vehicle lineup over the next 18 months.
The 3.7 percent increase GM posted for the year was below its 4.9 percent rise in December, but it included better sales year over year for three of its four nameplates and signs that its struggling truck business was improving late in the year.
The Detroit carmaker Thursday reported that it sold 2,595,717 vehicles last year, up from 2,503,820 in 2011. GM said its year-end outcome was helped by its best December performance in five years. GM sold 245,733 vehicles last month, up from 234,351 a year earlier.
Full Story:
http://www.lansingstatejournal.com/article/20130103/BUSINESS/301030043/GM-sales-up-3-7-percent-2012