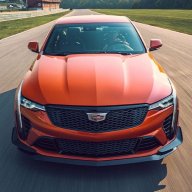 Administrator
Staff member
Joined

Nov 3, 2011
Messages

3,871
Location
V-Series Cadillac(s)?

Not Yet!
Fifth Generation Promises a Leaner and Meaner Small Block
New direct-injection combustion system to improve efficiency of Gen-V engines
29.11.2011
WIXOM, Mich
. – A new direct-injection fuel system will help GM's Gen-V small-block engine deliver greater fuel efficiency compared with the current generation. The fifth-generation small block is an all-new engine family that builds on the architectural and technology legacy of previous generations with greater efficiency, performance and refinement.
General Motors is investing more than $1 billion in manufacturing facilities associated with producing Gen-V small-block engines, resulting in the creation or retention of 1,711 jobs.
GM announced the new direct-injection fuel system for the small block at the Performance Build Center, in Wixom, Mich., as the final fasteners on the 100-millionth production small-block engine – a 638-hp supercharged LS9 engine for the Corvette ZR1 – were tightened. The small block was introduced in 1955.
"Direct injection is a vital progression from conventional port fuel injection that enables an advanced, new level of engine management. The precise control of combustion afforded from direct injection makes it almost entirely an engineering 'win-win' – you get enhanced power and torque in addition to better fuel efficiency," said Bill Visnic, analyst and senior editor at Edmunds.com.
"The evolution to direct injection should be as significant for the next-generation small-block V-8 as perhaps any single engineering upgrade in this storied engine's nearly 60-year history," Visnic said.
In the fifth-generation small block, the all-new direct injection combustion system will work with a higher compression ratio and other technologies to enhance efficiency. That means greater performance using less fuel than comparably sized Gen-IV engines.
"The Gen-V small block is an all-new, state-of-the-art engine family that will offer more efficiency and refinement than any other small block in its more than half-century of production," said Jordan Lee, chief engineer. "For customers, that will mean cars and trucks that deliver more while using less gas to do it."
The Gen-V small block will go into production in the near future and is guaranteed to have 4.4-inch bore centers – the center-to-center distance between cylinders that has been part of the small-block's architecture from its introduction 56 years ago.
General Motors Co. (NYSE:GM, TSX: GMM) and its partners produce vehicles in 30 countries, and the company has leadership positions in the world's largest and fastest-growing automotive markets. GM's brands include Chevrolet and Cadillac, as well as Baojun, Buick, GMC, Holden, Isuzu, Jiefang, Opel, Vauxhall and Wuling. More information on the company and its subsidiaries, including OnStar, a global leader in vehicle safety, security and information services, can be found at
General Motors | GM.com
.
# # #