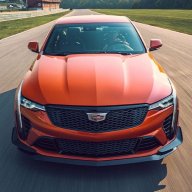 Administrator
Staff member
Joined

Nov 3, 2011
Messages

3,893
Location
V-Series Cadillac(s)?

Not Yet!
Chris Brewer: V is for Vrroom in Cadillac CTS Vsport

By Chris Brewer Fri, Jun 6, 2014 @ 4:27 pm
Florida Times-Union
Known for his infectious sense of humor, captivating personality, and impeccable sense of style, my Italian-American grandfather owned a night club just outside of Boston, danced soft-shoe, sang with Jimmy Durante, and, of course, drove a Cadillac.
In the '50s and '60s, the Cadillac nameplate represented the finest in made-in-America quality, luxury and prestige. Throughout the '70s and '80s, GM's luxury line may have had a slight misstep or two — try the Cimarron — but for the most part, Cadillac continued to be a well-respected brand, especially among U.S. buyers wanting to drive a domestic luxury car or SUV.
And while comfort, style and value were often used to describe the Fleetwoods, Eldorados and DeVilles of the past, rarely did the mention of the Cadillac brand bring raw driving performance to mind.
That image began to evolve over the years as the company added power and performance to various models, but with the introduction of the 2004 Cadillac CTS-V — a 5.7-liter V-8-powered midsize sedan aimed directly at the ranks of BMW's M Series, Mercedes' C and E Class AMGs — Cadillac undeniably earned the title of world-class performance sedan.
The most recent CTS-V has remained at the top of the Cadillac performance ladder, boasting a 556-hp, 6.2-liter supercharged engine.
However, just one rung down sits the glorious 420-hp, 3.6-liter twin-turbo V-6 2014 CTS Vsport.
Full Story:
members.jacksonville.com/autos/2014-06-06/story/chris-brewer-v-vrroom-cadillac-cts-vsport