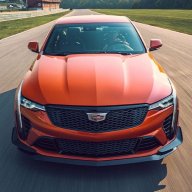 Administrator
Staff member
Joined

Nov 3, 2011
Messages

3,810
Location
V-Series Cadillac(s)?

Not Yet!
Customer Experience is New Luxury Battleground
Cadillac institutes cultural initiatives to improve customer service
2012-04-25
DETROIT
– The fierce competition between luxury automotive brands extends beyond artfully designed, high-tech new products. It's about capturing the hearts and minds of affluent customers before product or price enter the equation.
"While we've performed fairly well in customer service, we sensed a bigger opportunity," said Kurt McNeil, vice president of Cadillac Sales and Service. "We call the approach Defining Moments – the fact that every interaction with a customer can potentially define our brand."
Spurred by the brand's ongoing momentum in product and marketing, Cadillac gained insights from outside the automotive space to enhance its approach to customer experience.
"Cadillac is the real thing when it comes to the products, and its approach to the cultural aspects of the luxury customer experience," said Milton Pedraza, founder and CEO of the Luxury Institute,
The institute conducts extensive research on affluent consumer behaviors. One of Pedraza's key findings is that today's luxury consumers have countless options for desirable products, placing more value on experiences.
"To earn credibility among luxury customers, brands not only have to offer the best products, but they must also be kind and provide an overall positive purchasing experience," said Pedraza. "The opportunity for luxury brands not only lies in out-performing the competition, but also out-behaving the competition."
Cadillac began "Defining Moments" training for internal and dealership staff was co-developed with the Ritz-Carlton. Famed for excellence in customer service, Ritz-Carlton team members maintain a consistent global culture at all levels devoted to earning guest loyalty.
"The training was important because it showed that luxury customer experiences are built on the culture and the behavior of people," McNeil says. "It's not about programs or discount offers. Great service comes from ordinary people delivering excellence at all levels."
While emphasizing new cultural approaches, Cadillac has supported that with upgrades to what can be seen and experienced physically. Hundreds of dealers are rebuilding or renovating dealerships. Cadillac has redesigned consumer websites and instituted specific standards for local dealer advertising. For example, Cadillac Shield is a set of ownership benefits that includes complimentary roadside assistance from a Cadillac technician, and Cadillac courtesy transportation programs for cars being serviced.
"With Cadillac expanding in 2012 with two all-new products, it's a perfect opportunity to prepare to welcome new guests," says McNeil.
Cadillac has earned steady increases in consumer and industry satisfaction surveys, ranking among the top brands in many measures of customer satisfaction.
The brand was recently recognized as a 2012 Customer Service Champion by J.D. Power and Associates. The luxury automaker was one of only 50 companies out of 800 studied to earn the distinction. The 2012 Champions were identified based on customer feedback, opinions, and perceptions gathered primarily from J.D. Power's syndicated research in 2011.
<object id="flashObj" width="480" height="270" classid="clsid
27CDB6E-AE6D-11cf-96B8-444553540000" codebase="http://download.macromedia.com/pub/shockwave/cabs/flash/swflash.cab#version=9,0,47,0"><param name="movie" value="http://c.brightcove.com/services/viewer/federated_f9?isVid=1&isUI=1" /><param name="bgcolor" value="#FFFFFF" /><param name="flashVars" value="videoId=1585510437001&playerID=1055201185001&playerKey=AQ~~,AAAA9K3O_eE~,BF-rjVZt6dxWMzhYS_d0aK6IljUB_vgT&domain=embed&dynamicStreaming=true" /><param name="base" value="http://admin.brightcove.com" /><param name="seamlesstabbing" value="false" /><param name="allowFullScreen" value="true" /><param name="swLiveConnect" value="true" /><param name="allowScriptAccess" value="always" /><embed src="http://c.brightcove.com/services/viewer/federated_f9?isVid=1&isUI=1" bgcolor="#FFFFFF" flashVars="videoId=1585510437001&playerID=1055201185001&playerKey=AQ~~,AAAA9K3O_eE~,BF-rjVZt6dxWMzhYS_d0aK6IljUB_vgT&domain=embed&dynamicStreaming=true" base="http://admin.brightcove.com" name="flashObj" width="480" height="270" seamlesstabbing="false" type="application/x-shockwave-flash" allowFullScreen="true" allowScriptAccess="always" swLiveConnect="true" pluginspage="http://www.macromedia.com/shockwave/download/index.cgi?P1_Prod_Version=ShockwaveFlash"></embed></object>