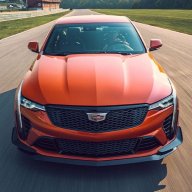 Administrator
Staff member
Joined

Nov 3, 2011
Messages

3,867
Location
V-Series Cadillac(s)?

Not Yet!
Cadillac ATS Challenges the World in New Film Series
Debuts online this week and airs during Olympic Opening Ceremony
2012-07-18
DETROIT
– Cadillac will introduce the all-new 2013 ATS via a series of dynamic films in which the new luxury sport sedan confronts some of the world's extreme roads and treacherous driving conditions.
"Cadillac ATS vs. the World," debuts online this week and includes 60- and 30-second television spots airing during the Opening Ceremony of the Olympic Games on July 27.
The cinematic adventure takes the ATS from the deserts of Morocco, to the streets of Monaco, to the Guoliang Tunnels in China and windswept Patagonia, Chile. Each challenge showcases aspects of the car's agility, driving performance and efficient design.
"Completely new from the ground-up, ATS is Cadillac's bold entry into the most significant segment of the global luxury auto industry," says Don Butler, vice president of Cadillac Marketing. "ATS was developed to take on the world's best sport sedans. So we designed a world challenge for ATS to dramatically demonstrate its all-new purpose-built chassis and advanced technology in a global, cinematic adventure.
"The films demonstrate the performance of the new ATS on a world stage, making it a natural fit for the Olympics."
The campaign includes short films, ads and photography, directed by Academy Award-nominated documentary film maker Joe Berlinger, and Jeff Zwart, an acclaimed automotive expert and film maker. The driver in the spots is Derek Hill, a champion race driver and son of Phil Hill, the only American to win the World Driving Championship. American actor and filmmaker Ross Thomas hosts the series, which includes short films highlighting aspects of the ATS and the cultures of the locations featured in the challenges.
Coming to Cadillac showrooms later this summer, the compact ATS establishes a new entryway to the Cadillac portfolio, with a starting price of $33,990 including freight and the choice of three power-dense engines. EPA highway fuel economy is 33 mpg, while a new 2.0-liter turbo engine and the car's lightweight construction enables peak 0-60 mpg acceleration of 5.7 seconds.
"'ATS vs. the World' is about the compelling performance of the car," said Butler. "ATS has been comprehensively prepared for a big and unprecedented mission. That inspired us to create this unique creative platform to present ATS to luxury consumers in a big, new and engaging way."
In Patagonia, famed as the windiest place on earth, the ATS's advanced aerodynamics are put to the test. In Morocco, Hill pilots the ATS through a treacherous road in the Atlas Mountains that features 100 corners. In Monaco, ATS attacks the intricate and legendary Monaco Grand Prix circuit. And in China, Magnetic Ride Control technology helps ATS confront the remote hand--carved Guoliang Tunnel Road.
"It took global scale and a directorial dream team to help us pull off a production of this magnitude," said Pat Fallon of Fallon Minneapolis, the agency behind the ad. "Jeff Zwart is one of the best car shooters in the world and Joe Berlinger is an Oscar-nominated documentarian with a great eye for human stories. A combination of talent like that is something that we just don't see that often."