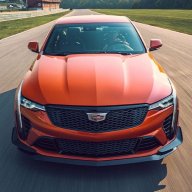 Administrator
Staff member
Joined

Nov 3, 2011
Messages

3,871
Location
V-Series Cadillac(s)?

Not Yet!
Cadillac's growling 2014 CTS VSport could move it from underdog to top dog
The real stunner in the group is the CTS Vsport
By Davis Adams
Digital Trends Reviews
If there's an American company that's going to really give the Germans a run for their money, it's Cadillac. They rolled out the compact ATS last year, and to our surprise, it's more fun to drive than the BMW 3 Series, and more comfortable on long commutes than the Mercedes-Benz C-Class. Who'da thunk?
Up until the launch of the ATS, the CTS was the entry-level Caddy, and it has lived in a weird halfway house – too big to be considered compact, but too small to be truly mid-sized. That changes for 2014.
With a true compact sports sedan positioned below it, the CTS has grown in size, equipment, and price to better compete with the Audi A6, BMW 5 Series and Mercedes-Benz E-Class. We flew out to sunny Santa Barbara to take an early spin behind the wheel before the car goes on sale later this year.
Full Story:
2014 Cadillac CTS Sedan Review | Digital Trends Reviews