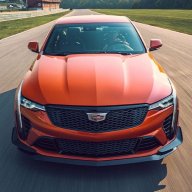 Administrator
Staff member
Joined

Nov 3, 2011
Messages

2,669
Location
V-Series Cadillac(s)?

Not Yet!
2014 Cadillac CTS Vsport
Cadillac may be moving out of Motown, but the CTS is already on another planet.
Apr 2015
By JARED GALL
Car and Driver Magazine
In 2014, Cadillac poached, from Infiniti, one of the auto industry's most celebrated and outspoken execs. It also showed the 464-hp ATS-V and the 640-hp CTS-V, and said that it will be renaming its lineup using designations beginning with either CT (cars) or XT (trucks) followed by a number. But nothing it did generated more hand-wringing than the brand's announcement that it was moving its headquarters from Detroit to New York City.
Chief among the justifications for the move was to physically separate Cadillac from the rest of General Motors, the better to foster a distinct product portfolio. But that process is already underway. Cadillac's ATS and the new CTS boast a segment-defining excellence absent in many GM products. Introduced for the 2014 model year, the third-generation CTS—particularly in 420-hp, twin-turbo 3.6-liter V-6–bearing Vsport trim—is a sports sedan of singular focus. Ultra-high-definition feedback streams through the steering, the chassis reacts like that of a 14/10-scale BMW E30, and the engine hurtles the car forward with smoothness and sonorousness heretofore reserved for sixes of the straight Bavarian variety, not bent American ones. We named the CTS to our 10Best list for 2014 and 2015, ordering up a long-termer in between the handoff of the two trophies.
For its 40,000-mile stay, we naturally opted for the $59,995 Vsport, but stopped there, without adding any options. The car comes standard with important mechanical bits such as adaptive magnetorheological shocks, an electronically controlled limited-slip differential, and Brembo brakes. A third zone for the dual-zone climate control or 20-way adjustable seats just seemed like unnecessary embellishments.
Full Story:
2014 Cadillac CTS Vsport Long-Term Wrap-Up ? Review ? Car and Driver