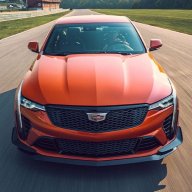 Administrator
Staff member
Joined

Nov 3, 2011
Messages

3,891
Location
V-Series Cadillac(s)?

Not Yet!
Autoweek: 2015 Cadillac CTS Vsport review notes
The everyday-fun horsepower Cadillac CTS
February 5, 2015
DIGITAL EDITOR ANDREW STOY:
Really, really outstanding -- The CTS Vsport is the "everyman's" high-performance sedan in the Cadillac lineup, and it carries itself just fine, even with big-brother CTS-V waving 640 horsepower in its face. There's nothing to apologize for here--the Vsport is sane, everyday-fun horsepower and more than enough to get you into trouble should you go looking for it. Yes, the exhaust note is raspy turbo six versus fat, grumbly V8, but that can be refreshing when you fire it up on a quiet suburban morning -- maybe I'm too old, but I don't need it loud all the time.
One thing I will take all the time is the CTS' chassis tuning; like the ATS, this car has the same sense of rigidity I get from German sedans, but it's got an addictive sense of lightness that completely masks its curb weight. The good thing is the chassis dynamics I enjoy seem to be in every class of CTS--you don't have to spend $60K on a Vsport to enjoy the same sprightly handling.
Considering the power output, luxurious interior and driving dynamics, the MSRP of our CTS Vsport doesn't seem at all unreasonable. The question is, can Cadillac get sport-sedan buyers to visit a showroom (and, once there, get a proper luxury-car-buying experience) prepared to part with $60,000? In Detroit, yes. Across the rest of the U.S., the jury is still out.
Full Story:
Autoweek: 2015 Cadillac CTS Vsport review notes