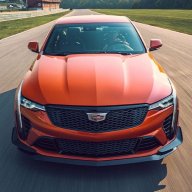 Administrator
Staff member
Joined

Nov 3, 2011
Messages

3,810
Location
V-Series Cadillac(s)?

Not Yet!
Car Review: Cadillac CTS and CTS 3.6L TT Vsport
Dec 30, 2014
By Frank S. Washington, NNPA Columnist
The Pittsburgh Courier
DETROIT
– After a couple of days test-driving the 2014 Cadillac CTS, we looked at the price sheet for the car and said whoa. Not because the midsize luxury sedan was overpriced, but at $65,425 as tested, the price point was squarely in line with the midsize sedans offered by German luxury brands. Thus, the bottom line boiled down to could it compete?
To make that determination we started at the back of the car and worked to the front. The trunk was cavernous at 13.7 cu. ft. It was long, deep and looked like an adult could climb in and be quite comfortable. It could handle a couple of bodies or at least three perhaps four sets of golf clubs.
Still, the place for bodies, live ones, was in the back seat. And this is where the CTS excelled. The space in the midsize car's rear seat rivaled a full-size sedan. There was plenty of headroom, legroom and because of the width of doors, getting in and out didn't require contortions.
Backseat passengers had their own automatic climate control system as well as heated seats. Those seatbacks would fold creating a pass-through, thus, making more cargo space. Yes, Cadillac says the car can handle five passengers but like most rear-wheel-drive sedans, four people are its comfortable capacity.
Privacy could be maintained by utilizing the manual shades for the side windows, of course there was a driver operated power shade on the rear window and ample light could be had through the panoramic roof. The front part was movable and the rear half of the glass pane over the rear seats was fixed.
Full Story:
Car Review: Cadillac CTS and CTS 3.6L TT Vsport | New Pittsburgh Courier