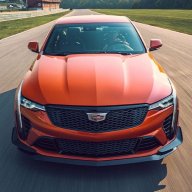 Administrator
Staff member
Joined

Nov 3, 2011
Messages

3,893
Location
V-Series Cadillac(s)?

Not Yet!
2014 Cadillac CTS-V Coupe review notes
By: Autoweek editors on 11/05/2013
DIGITAL EDITOR ANDREW STOY:
It's no spring chicken, but the CTS-V coupe is still one of the most entertaining high-performance luxury cars on the market. It offers a proper six-speed manual transmission, rear-wheel drive, Alcantara steering wheel and 550-plus hp for just a touch over $70K; hardly cheap, but when you look at the competition from Jaguar and the Germans, it's a bit of a bargain.
Under that crisp sheetmetal, the CTS-V coupe is a muscle car at heart, and the supercharged LSA engine will deliver sideways tire-smoking thrills at a moment's notice -- should the driver request them. It's all imminently controllable thanks to very good steering feedback, tons of grip and a fabulous manual gearbox and shifter, the net effect of which is far less Jaguar XKR "I'm going to kill you," and more AMG "point and shoot" with a delicious dose of supercharger whine. The CTS-V comes to play; it doesn't put on airs -- it's just looking for a good time.
When playtime is over and you get involved in rush-hour traffic or mundane errands, the CTS-V is just as happy to comply. Again, the fantastic gearbox and nice clutch weighting makes it simple to enjoy a stick shift even in less-than-ideal driving conditions, and the dated but still well-thought-out CTS interior is a comfortable place to wile away the time. A surprise for this author was the size of the rear seats in our coupe tester. Ordinarily a coupe means I get to wrestle kids and car seats all evening, but the CTS coupe rear seats were wide enough for boosters to fit without obscuring the seat belt buckles, and cushions were flat enough to keep the boosters stable. The front seat belt anchorages present a bit of an obstacle for rear-seat passengers, but accessibility was otherwise a bright spot.
Full Story:
2014 Cadillac CTS-V Coupe review notes,pricing,specs,photos - Autoweek