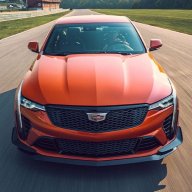 Administrator
Staff member
Joined

Nov 3, 2011
Messages

3,809
Location
V-Series Cadillac(s)?

Not Yet!
2014 Cadillac CTS Press Conference Remarks by Mark Adams - New York Auto Show
2013-03-26
NEW YORK
-- Mark Adams, executive director, Cadillac Global Design, and Bob Ferguson, vice president, global Cadillac, addressed news media, March 26, at the reveal of the 2014 Cadillac CTS at the Rose Theater, Lincoln Center, for the New York International Auto Show.

MARK ADAMS ( Executive director, Cadillac Global Design)
Good evening.
Cadillac is on a Journey. Our trajectory is clear - Cadillac is expanding and elevating as a brand.
That is precisely the intention of the new CTS: It is ascending into the top-level of midsize luxury.
As Cadillac's centerpiece product, each new generation moves our entire brand.
Originally, in 2002, it signaled our return to rear-wheel drive and our entry into legitimate luxury-performance.
Then in 2008, we reached much further and showcased the development of Art & Science.
And now, this car is designed to lift Cadillac into a true prestige level.
It is our next logical step, but also our challenge. The car we reveal this evening is both expanded and elevated.
Yes, it is physically larger.
But most important, it is more crafted, more sophisticated, and higher performing.
As our brand develops, and our products grow in credibility,
this is the kind of car Cadillac must do.
It makes a bold statement that only Cadillac can make. It showcases the bold imagination that is uniquely American.
And it's also elevated in its execution - rising to the next level where we believe Cadillac can be compelling, convincing and fully credible in the prestige luxury sedan segment.
We have demonstrated our ability to produce stunning, even provocative designs.
We've delivered world-class quality, craftsmanship and precision. And we've firmly established our performance credentials.
The new CTS reaches beyond our previous achievements.
It has to.
In order to take on the top tier brands in the midsize luxury segment it has to be excellent in all areas.
And while it allows us to push squarely into the heart of this segment, it has to grow and expand our appeal... here in
North America, and around the world.
From the project's inception, our design team clearly envisioned the final result: a completely new CTS, rising to the next level.
But no matter how dramatic our vision is, the design starts the same way - a pencil, a sketch pad, and the designer's imagination ...
This is the all-new 2014 Cadillac CTS.
Our mantra in the design studio was very simple: Longer, Lower, Leaner.
And I think you can see that immediately.
It's a dramatic step - particularly when you look at it from the perspective of Cadillac's overall journey and the progression of the CTS itself, as we now enter the 3rd Generation.
The new car is 5 inches longer, 1-inch lower, and 250 pounds lighter.
That's right - our engineering team led by Dave Leone significantly grew the dimensions of the car, while reducing its weight at the same time.
That's an achievement we're very proud of.
Not only is it lighter than the prior model, the new CTS will be the lightest car in its class: more than 200 pounds lighter than the comparable BMW 5-Series.
That translates into a car that will deliver the most engaging and agile driving dynamics in its class - allowing the performance hardware to really shine.
Magnetic Ride Control, the world's fastest reacting suspension, is pulled down from the high-performance
V-Series into the CTS.
The chassis includes Brembo brakes, available AWD, and ZF premium steering.
We're also expanding the performance envelope of the CTS with the new Cadillac Twin Turbo V6.
This engine has more power-per-liter than comparable engines, with 420 hp and 430 lb-ft of torque.
This all-new engine will be offered in a new line called Vsport.
Vsport is an extension of Cadillac's now legendary V-Series, combining the standard car's highest performing components in a single model.
In addition to the Twin Turbo V6, it comes with an 8-speed automatic transmission, a driver-selectable track mode, performance tires, and much, much more.
Other engine choices include the standard 2-liter turbo
4-cylinder...
And our current 3.6-liter uplevel engine will now be the mid-level option, with 321 HP.
The curb weight of 3600 pounds is achieved by an entirely new approach to engineering - pioneered by the award-winning ATS sport sedan.
Many of those techniques and components are here in the new CTS - and they have been taken even further.
For instance: all-new aluminum doors front and rear result in a weight saving of 55 pounds. And advanced steel, magnesium and aluminum are used throughout the structure of the car.
Which makes us wonder: Could Cadillac's approach to lightweighting and chassis dynamics become a benchmark that European competitors strive to catch up to?
We'll see...
I do know that as designers, the engineering of CTS enabled us to give the car dramatic new proportions.
It has a long, low hood with the front wheels pushed forward -- we call it dash-to-axle -- and this gives
the car classic rear-wheel-drive proportions.
The hood is tightly sculpted, with feature lines that lead to a larger, more refined grille that is bold but also sophisticated.
Throughout the car you see the sharp creases of Cadillac's design ethic, but between these crisp lines the surfaces are much more sculptural, more refined.
And of course, we have Cadillac's signature vertical lighting which on this car is even more dramatic.
Every component - from the tautly stretched body side through to the rear - was designed to be beautiful as an individual element, and to contribute to the total composition.
The interior represents a new approach - emphasizing the personas of driver-centric technology with elegant, luxury accommodation.
Semi-aniline leather seats have 20-way adjustability to cater to a range of needs.
The LCD instrument cluster display can change between four different themes.
There's a full-color head-up display.
And magnesium shift paddles are standard on all models.
The entire interior is made up of wonderfully crafted cut and sew materials.
You'll find open-pore wood... authentic carbon fiber and aluminum accents... and our widest range of color choices.
So we've taken a very comprehensive approach with the all-new CTS, combining driver-engagement with luxury and sophistication.
While we are very excited about our growth and progress - we know that top-class global-luxury competition demands our best and most creative efforts each and every time we bring a new Cadillac to market.
Now for some final thoughts, here is Bob Ferguson.
BOB FERGUSON ( V ice president, global Cadillac)
Thank you, Mark (Adams).
Well, we hope you like what you see.
And we hope you find that the trajectory of Cadillac is clear: expanding, growing, elevating to another level.
And the new CTS will help propel us there.
As you know, the new ATS sport sedan is the North American Car of the Year.
What you may not know is that 70% of ATS buyers are new to Cadillac. And that's helping move us forward as well.
Through the first two months of 2013, sales are up 32% here in North America.
In China, the world's largest luxury market,
we're taking big steps forward.
And we now expect Cadillac sales to triple over the next 3 years.
It's a long journey, with many more steps to come.
But we're pleased you are here with us tonight... and I would like to extend a special welcome to our Cadillac dealers.
I'd also like to thank our musicians.
On turntables, DJ Neil Armstrong...
On Marimba, Brian Slawson...
and on 6-string electric violin, Valerie Vagoda.
Thanks.
There's a lot more for everyone to explore tonight.
We've got technical properties...
We've gathered some artifacts from our design studios...
And, we've brought along several of our development team members... and even an extra car or two.
In fact, we brought along more items than could comfortably fit here on stage, so there's even more out in the lobby...including another CTS.
So come on up, and really get to know the new Cadillac CTS sedan.