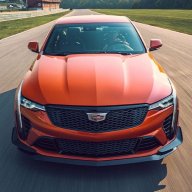 Administrator
Staff member
Joined

Nov 3, 2011
Messages

3,891
Location
V-Series Cadillac(s)?

Not Yet!
2014 Cadillac ATS Coupe - First Look
Small Caddy coupe coming to ATS lineup.
By Nick Kurczewski / Road and Track Magazine
Illustrations by Theophilus Chin/Chris Doane Automotive

April 13, 2012
The 2012 Detroit Auto Show saw the introduction of the 2013 Cadillac ATS sedan, the American luxury brand's latest rival to popular German models like the BMW 3-Series and Audi A4. We've been down this road before, with previous compact Caddy sedans proving woefully uncompetitive (think Cimarron) or bland and forgettable (the Catera). Based on its handsome exterior and impressive spec sheet, the ATS appears to be a quantum leap forward from past efforts, as Cadillac finally takes a serious fight to the compact sedan competition.
To flesh out the ATS lineup, Cadillac will soon introduce a coupe model, with sales expected to begin sometime in early 2014. These artist illustrations provide a sneak peek at the upcoming ATS Coupe, which employs the same rear-wheel-drive Alpha platform as the sedan. From these images, the transformation from four to two doors has been done extremely well. The sweptback headlamps, prominent grille, and side character line – running along the sides and through the door handles – look especially handsome on the ATS Coupe.
Full Article:
2014 Cadillac ATS Coupe First Photos and Details ? RoadandTrack.com