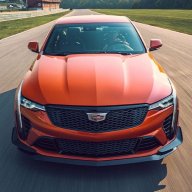 Administrator
Staff member
Joined

Nov 3, 2011
Messages

3,720
Location
V-Series Cadillac(s)?

Not Yet!
2013 Cadillac ATS Long-Term Test
By Mike Magrath, Features Editor | Published Dec 3, 2012
Edmunds Inside Line
When it comes to premium sport sedans, the Germans are winning. In fact, they've been winning for so long that they've fortified their position, built a settlement and nearly blocked off all of the inroads.
But while Ingolstadt was eyeing Stuttgart and Munich was busying itself with odd hatchbacks, Detroit crashed the party with the 2013 Cadillac ATS.
Unlike previous attempts at cracking this nut, the new Cadillac ATS doesn't have any caveats. It's not bigger, but cheaper; it's not faster yet less efficient; it's not better-looking but lower-quality. The ATS is, at first blush, a real-deal competitor to the Audi A4, BMW 3 Series and Mercedes-Benz C-Class.
Adding one to our long-term test fleet was a no-brainer. We wanted to know how close Cadillac got to creating a better sport sedan. As soon as they went on sale, we went out and bought a 2013 Cadillac ATS.
Full Story:
2013 Cadillac ATS Long-Term Test