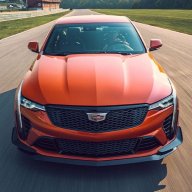 Administrator
Staff member
Joined

Nov 3, 2011
Messages

3,398
Location
V-Series Cadillac(s)?

Not Yet!
No excuses: 2016 Cadillac ATS-V is a true Euro tuner alternative
April 26, 2015
AutoWeek Magazine
Cadillac's lightest V car is a legitimate best-in-class, but will that be enough?
What is it?
The 2016 Cadillac ATS-V sedan and coupe aren't particularly complicated, even if their engineering and performance technology are cutting edge. The smallest, lightest V Series cars to date form Cadillac's one-two punch at a luxury-performance category long dominated by European brands, excuses no longer necessary.
The competitive set includes some of the best, most interesting high-performance sedans and coupes in the world, including the Audi RS5, the Lexus RC-F and the Mercedes-Benz C63 AMG. Cadillac vehicle chief engineer Tony Roma calls the ATS-V "a bi-modal car" that compromises neither luxury nor performance, yet he makes no bones about its ultimate target and benchmark. That would be the long-time track star among these compact-class hot-rods—the BMW M3/M4.
To build an M3 beater, Roma's team "considered every part and a million details" in the standard Cadillac ATS—already the lightest and arguably the sportiest car in its set. Engineers changed roughly 2000 parts from the ATS 2.0-liter turbo with FE3 sport suspension to get to V spec.
The most obvious beneficiary is the ATS-V's twin-turbo V6, which shares block architecture with Cadillac's familiar 3.6 and little else. Its crank is forged, its con rods are titanium and its valve train is upgraded. Gasoline is fed at 2,900 psi to maintain optimum fuel delivery and pulse precision even at 1.25 lateral g. Its turbos have low-inertia titanium-aluminide turbines and vacuum-actuated waste gates. Its patented low-volume intercooler improves packaging efficiency and maximizes charge cooling. The track-ready lubrication system includes a dedicated oil-cooler and high-velocity pump.
The net result of Cadillac's handiwork is 464 horsepower and 445 pound-feet of torque, SAE certified. That's 11 hp more than the initial projection, and 39 more than the M3's inline six…and more than the RS5's V8, and only a few ponies less than V8s in the RC-F or 2016 C63, with more torque than all but the Mercedes.
Full Story:
No excuses: 2016 Cadillac ATS-V is a true Euro tuner alternative