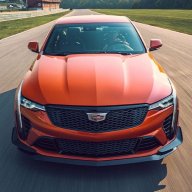 Administrator
Staff member
Joined

Nov 3, 2011
Messages

3,867
Location
V-Series Cadillac(s)?

Not Yet!
2012 Cadillac CTS-V Coupe: A serious luxury performance machine
By Arv Voss/Auto Impressions
The Reporter - Vacaville, California
Posted: 06/12/2012 01:05:20 AM PDT
The 2012 Cadillac CTS lineup represents very nice vehicles that provide an above average level of performance capability. And...if you are a fan of the base CTS models, you're sure to enjoy the CTS-V version Cadillacs even more. The 2012 CTS-V Coupe is a wicked-looking machine -- perhaps a little too angular to suit everyone's personal taste, but count me as an avid admirer. After all, taste is in the eye of the beholder. It's also not out of context to think of this latest iteration CTS-V as a high-performance luxury coupe version of Corvette's ZR1. Admittedly, the 'Vette generates a higher boost from its supercharger and sports a different exhaust, which, along with other tweaks, cranks out more horses and higher torque than does the CTS-V, even though they share the same basic engine.
Full Story:
2012 Cadillac CTS-V Coupe: A serious luxury performance machine - The Reporter