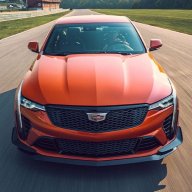 Administrator
Staff member
Joined

Nov 3, 2011
Messages

3,810
Location
V-Series Cadillac(s)?

Not Yet!
With 2016 ATS-V, Cadillac Takes its First Serious Step Toward Cool
By Hannah Elliott
Nov 20, 2014
Bloomberg.com
Cadillac has unveiled the latest part of it its effort to revitalize its image.
It threw a party this week at the Los Angeles Auto Show to debut its 2016 Cadillac ATS-V, a 455-horsepower car with a twin-turbo V6 engine and styling that looks decidedly more aggressive than its brand brethren.
The car is the latest of a line of V-branded high-performance cars Cadillac hopes will draw much-needed younger buyers to the brand. A subsequent CTS-V is planned for next year, and three others will enter the market before 2020.
They will do much to bolster the brand.
"This is an important night - I have high hopes," brand chief Johan de Nysschen told me at the event.
Full Story:
With 2016 ATS-V, Cadillac Takes its First Serious Step Toward Cool - Bloomberg