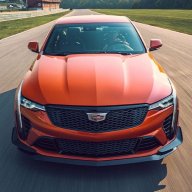 Administrator
Staff member
Joined

Nov 3, 2011
Messages

3,867
Location
V-Series Cadillac(s)?

Not Yet!
[REVIEW] Odyssey Extreme Battery for Your Cadillac ATS-V
by Hib Halverson
At the Cadillac V-Net, one of the Torque Network family of web sites, when we put the "Blue BMW Buster," our 2016 ATS-V six-speed in service, I began to think about an Odyssey Extreme Battery for the car. We have them in other Torque Network's test cars and they have been great products. When we contacted EnerSys, its Specialty Marketing Manager, Alan Kohler, advised that the Extreme series doesn't cover any Cadillac ATS. Kohler went on to say that Odyssey's other sub-brand, the Performance series, offers a battery (PN 48-720) which matches the ATS-V's stock, ACDelco 48AGM's dimensions. The Odyssey Performance Battery is, also, just a scosh lighter, at 48-pounds. vs the ACD's 49-lbs. but is more powerful.
Full Review
:
Odyssey Extreme Battery for Your Cadillac ATS-V