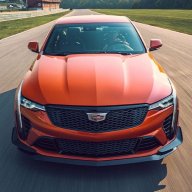 Administrator
Staff member
Joined

Nov 3, 2011
Messages

3,866
Location
V-Series Cadillac(s)?

Not Yet!
FYI, Cadillac Announcement:

Now is your time to order the ultra-exclusive Dark Emerald Frost (G7W) matte exterior paint available only on the 22MY V-Series Blackwing. This late-availability / limited production exterior paint will be limited to only 150 orders making these already exclusive V-Series Blackwings even more special, but a reminder that – with a matte finish – special care is required.
This week's 7/22 DOSP will be the first and possibly the only DOSP to offer this exterior color.
Please note the following:
Dark Emerald Frost - RPO Code: G7W
MSRP: $3,925
Maximum Allocation (150): 115 CT5-V Blackwing and 35 CT4-V Blackwing
Production Timing: Early Q4 2021
Constraint will be allocated according to percent of allocation (POA) since 22MY allocation is V-Series Blackwing only, and Dark Emerald Frost is only available on V-Series Blackwing models.
We encourage dealers to utilize PASS 2/PASS 3 to request Dark Emerald Frost (G7W) orders if interested. Don't miss this opportunity to request allocation for this extremely limited production model.
High-level special care guidelines (full special care guidelines to be provided closer to production):
Commercial car washes with any type of brushes are not recommended.
Do not use waxes or any type of gloss enhancing product on low gloss paint finishes
Power or hand washing with soap and water with a towel, chamois or air dry is the only recommended cleanup process for this paint.
Service note: Altered paint finished panels will have to be repainted to return it to the intended low gloss appearance.
Thank you for your support.
Sincerely,
Cadillac Sales and Marketing