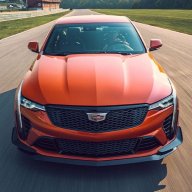 Administrator
Staff member
Joined

Nov 3, 2011
Messages

3,810
Location
V-Series Cadillac(s)?

Not Yet!
'V' For Victory? 2016 Cadillac ATS-V Aims to Topple BMW M3 and M4 From The Throne
11.24.2014 @ 4:09PM
By Matthew de Paula
Forbes Magazine
The winners and losers in an escalating battle to see which company can build the best sport sedan aren't clear like they once were, thanks to cars like the 2016 Cadillac ATS-V.
Cadillac is a relatively new contender for one of the winning spots, but the American luxury automaker has been gaining a lot of ground in recent years with cars like the CTS-V and ATS. Both are as rewarding to drive as their BMW counterparts, the M5 and 3 Series, considered by many to be the paragons of sport sedans.
Now with the ATS-V, a more powerful and exclusive version of the standard ATS, Cadillac promises to tussle with the BMW M3 sedan and M4 coupe, the higher performance versions of the 3 Series and the newly introduced 4 Series. These M-badged BMWs are all new for the 2015 model year and set an extremely high bar, as we wrote about here,
But based on how well the regular ATS drives and the impressive specs Cadillac has released on the ATS-V, BMW is in for a challenge.
Full Story:
Forbes Life