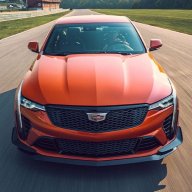 Administrator
Staff member
Joined

Nov 3, 2011
Messages

3,871
Location
V-Series Cadillac(s)?

Not Yet!
Twin-Turbo V6 Confirmed for the Cadillac ATS-V
-Rob Loszewski, Site Administrator
Cadillac V-Net
February 17, 2013
Motor Trend is reporting that the upcoming ATS-V is on track, and that some form of a twin-turbo V6 engine will power the upcoming Cadillac ATS-V that has been spotted in recent spy photos.
However, since the Cadillac ATS was designed with enough room under the hood to accept a V8, it is possible that we could see some form of the Gen V LT1 engine - same as the 2014 CTS-V will see. This particular version of the ATS-V probably would not see the light of day until the end of this current ATS' life cycle.
Motor Trend is predicting that the V8 engine we could see would be the 7.0L 427 V8 currently used in the Corvette Z06. However, it's my prediction that that is highly unlikely.
In a recent interview I conducted with Jordan Lee - Chief Engineer and Program Manager for GM's small block division, regarding the Gen V LT1 engine compared to the Corvette Z06's 7.0L 427:
"Because we were allowed to raise that compression ratio, and all the other things that we've done, our 6.2L LT1 Gen V has the same torque as the LS7 seven liter all the way up to 4,000 RPM. So in you're normal driving experience, you're going to feel like you're driving a seven liter. We have the same specific output; horsepower per liter as the LS7; actually a fraction of a horsepower per liter more. Overall, you're getting LS7 type performance in an engine that's a standard engine in that car.
So, with that said, why use a bigger, less efficient engine? I think Motor Trend's assumption of the LS7 application in a future ATS-V model is highly unlikely. We'll see!