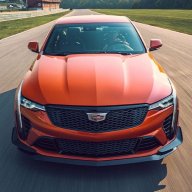 Administrator
Staff member
Joined

Nov 3, 2011
Messages

3,891
Location
V-Series Cadillac(s)?

Not Yet!
2014 Cadillac CTS Caught Testing With Less Camo
InsideLine
June 1, 2012
By: Ed Hellwig
So now that the weather is getting ripe for testing in Michigan, the covers have started to come off prototypes roaming around Detroit. Unlike the last CTS we spotted in the snow, this prototype had a little less camouflage covering its all-new design.
At this point it's hard to tell if that grille is for real or just a temporary cover for the actual design. Seems a bit toothy for the CTS, but then again, the 2013 Cadillac XTS has quite the maw of its own.
It's still hard to determine the size of this prototype. We expect it will be slightly larger than the current CTS since the upcoming ATS will become the base model. The CTS has traditionally between sized between most small and mid-size German sedans, so the introduction of the ATS will finally allow Cadillac to get its models in line with its competitors. Well, except for the XTS, but that's another story.
Photos Available at Link.